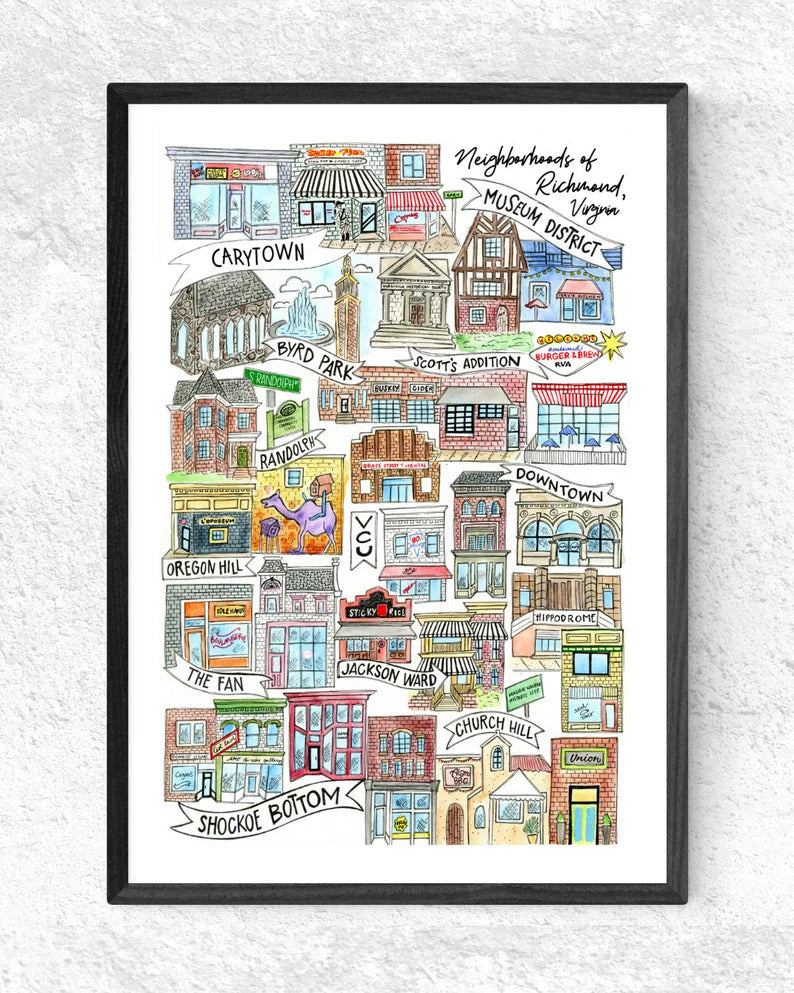 Neighborhoods of Richmond, Virginia 11x17 Print by Mad Kitchen Co.
$35.00
This 11"x17" vertical poster was designed with watercolor and pen.
This image includes:
Carytown (Chop Suey, Rocket Fizz and Cappola's Deli)
Museum District (Virginia Historical Society, A typical residence of this area, Izzy's Kitchen)
Byrd Park (Historic Pump House, fountain and Carillon Tower)
Scott's Addition (Buskey Cider, Lamplighter, Boulevard, Burger and Brew)
Randolph (A traditional residence of this neighborhood, sign for the community center)
Oregon Hill (L'oppossom and well-known mural)
VCU (Grace Street Theatre, Bo'Dillaz)
The Fan (Idle Hands Bakery, Scoop, Sticky Rice)
Downtown (Urban Hang Suite and Pop's on Grace)
Jackson Ward (Maggie Walker Historic Site, The Hippodrome, Soul Taco)
Shockoe Bottom (Richmond Cigar Factory, C'est La Vin, Grace Noodle)
Church Hill (Proper Pie, Alamo BBQ, Union Market)
This print has about a small border of white in case one wanted to frame it without any additional matting. The design does not contain a watermark on the front.