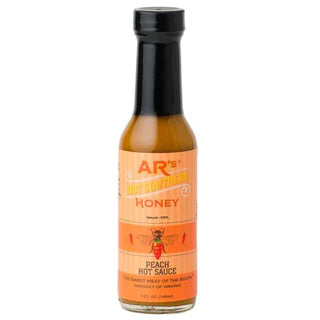 AR's Southern Peach Hot Sauce, 5oz
$9.99
AR's Peach Hot Sauce is just about as hot and southern as it gets. Fusing juicy southern peaches, spicy habanero peppers, and sweet clover and wildflower honeys, this hot sauce packs an irresistible flavor punch. The final product hits a broad range of flavor notes: peachy, peppery, smoky, floral, sweet, and spicy.

This summery southern hot sauce enlivens grilled meats and vegetables, adds smoky-sweet heat to sandwiches and salad dressings, and pairs exceptionally well with cheesecake and ice cream. It's also delicious in cocktails—add a splash of peach hot sauce to Bellini's, mimosas, or daiquiris for subtle, slow-burning heat.
AR's Hot Southern Honey Peach Hot Sauce is all-natural and contains real peaches and habanero peppers. All AR's products are made without artificial sugar, additives, preservatives, or extracts. This hot sauce is gluten-free, nut free and soy free.
Ingredients
Peach, real habanero pepper, honey, ginger, turmeric, coriander, lemon juice, apple cider vinegar, water, garlic.
Packaging
5oz Glass bottle with screw-top plastic cap.