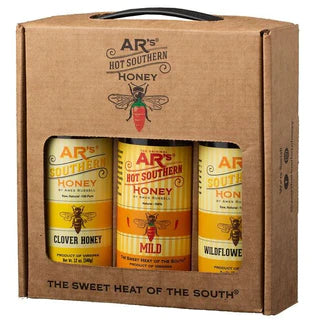 AR's Hot Southern Lotta Honey, Little Heat 3 Pack Gift Set
$38.00
The Lotta Honey, Little Heat 3-Pack is an introduction to The Sweet Heat of the South, with an emphasis on sweet. It features both of AR's mild, heat-free honeys—clover and wildflower—and the mildest of AR's hot honeys.
Produced in the Shenandoah Valley of Virginia, these honeys are all-natural and non-ultra filtered. AR's raw, 100% pure honey is sourced from Appalachian hives and the hot-mild honey contains real red chili peppers. All AR's honeys contain no artificial sugar, additives, preservatives, or extracts and the three honeys included in this 3-pack are gluten-free and paleo-friendly.
Contains:
AR's Southern Wildflower Honey
AR's Hot-Mild Southern Honey
AR's Southern Clover Honey 
Ingredients:
100% pure wildflower and clover honeys, ginger, turmeric, coriander, lemon juice, apple cider vinegar, water, garlic.