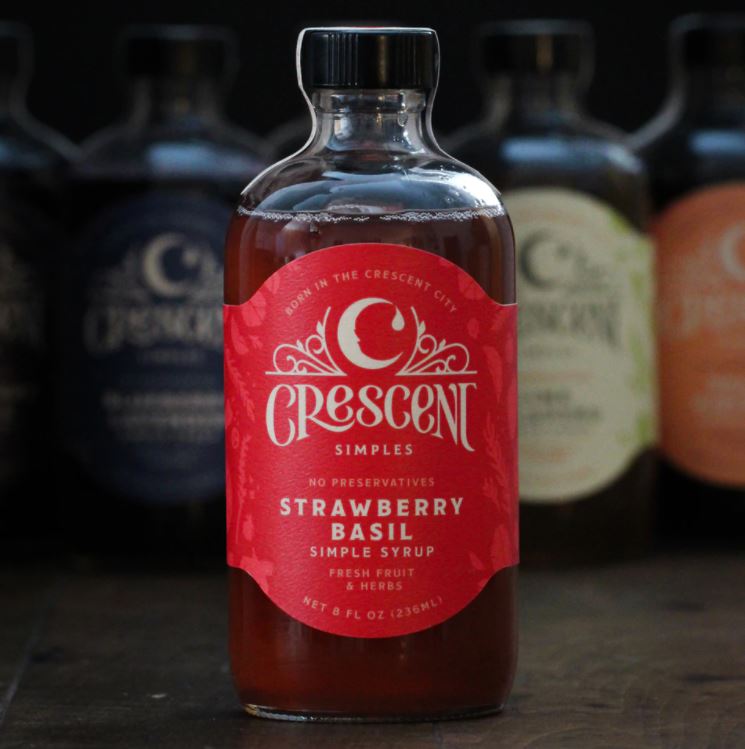 Crescent Simples Flavored Simple Syrups
$13.00
Made in small batches with fresh ingredients and without preservatives in Richmond, VA.
Grapefruit Rosemary: This syrup is made with an entire grapefruit, so you will taste the bitter bite from the rind along with the tart-sweet flavor of the juice. The rosemary adds a savory note, while the raw sugar brings it all together. A versatile syrup that will pair well with any liquor. 
Strawberry Basil:  The original syrup made by Crescent Simples. This syrup makes a killer fresh lemonade (or vodka lemonade) to help you cool off during the summer.
Lime Jalapeno: A perfectly balanced mix of smoky, spicy, tart, and sweet. It's about a 5 on a 1-10 scale of how spicy a jalapeno can be. It makes a killer margarita, but it also tastes great with gin, mezcal and vodka.
Blackberry Vanilla: A juice bomb with a long lasting vanilla finish. Made with whole, Grade A Tahitian vanilla beans. It really shines with dark liquors, such as bourbons, whiskeys, and dark rums. It also makes a wonderful addition to coffee or hot chocolate! 
Peach Hibiscus: Made from Virginia grown Chiles Orchard peaches and dried hibiscus flowers. It tastes like a sweet, juicy peach that drips down your chin when you bite into it, and the hibiscus adds just enough tartness to balance it out. It makes an absolutely delicious sweet iced tea. The ideal liquors to pair it with are vodka, rum, tequila, and whiskey. Try it in a whiskey sour, mint julep, or daiquiri to start.
Blueberry Lavender:  A delicious blend of fresh blueberries and lavender. Highly recommended in clear liquors where it will really shine. It brings out the botanical notes of gin, pairs perfectly with rum, and takes the edge off of vodka. 
Apple Spice: Made from fresh apples, whole cinnamon sticks, nutmeg, and cloves, and just a bit of lemon for some added zest and brightness. It tastes like a warm apple pie by the fireplace, and who doesn't love that?!? It's especially delicious with dark liquors, like aged rums and whiskeys, but we've also made a pretty killer spiked tea with Apple Spice, some black tea, and vodka.
Raspberry Rose: Deliciously light, with a tart, sweet berry profile that is perfectly complemented by the smooth flavor of rose petals. It's incredibly versatile and tastes equally great in a whiskey sour or a French 75! We also love it in tea, both hot and iced.