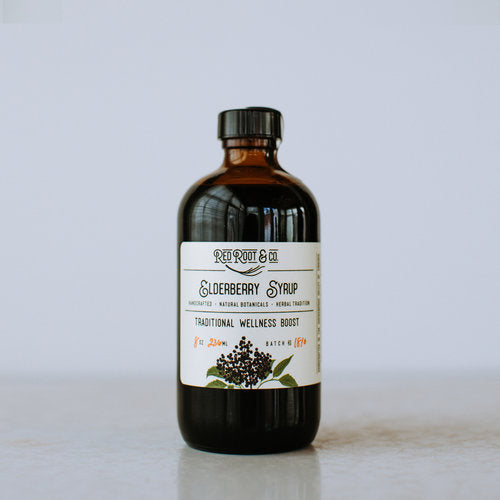 Red Root & Co Elderberry Syrup
$16.00
Elderberry Syrup is known to boost your immune response. Studies have shown that two teaspoons, once a day will have a positive effect on your immune system.
Red Root Elderberry Syrup is preserved with local raw Virginia honey, made with organic Cranberries and Elderberries and the finest organic spices. Used for centuries in various herbal traditions, Elderberries build fortitude with many standout qualities. The small-batch artisanal process is true to the craft of herbalism and gives life to an uplifting health tonic. 
Elderberry Syrup is smooth and tasty in foods, beverages or just consumed by the spoonful.
This Elderberry syrup is bright and nutritive, with notes of Cranberry, Orange, and warming spices. Enjoy it daily as a delicious wellness boost. 

Available in 4 ounce & 8 ounce bottles. 
Suggested use:  Take 2 tsp daily mixed with a small amount of water or juice. We love it in seltzer water, it's like a tasty immunity boosting mocktail!

Ingredients: Distilled Water, Organic Glycerin, Raw Honey, Elderberries, Organic Cranberries, Organic Orange Peel, Organic Spices
*These statements have not been evaluated by the Food and Drug Administration. This product is not intended to diagnose, treat, cure, or prevent any disease
Cautions: Consult with your healthcare provider prior to use if you have immune system disorder, an auto-immune condition, are taking immunosuppressants, or if you are pregnant.